Kevin & Scott
Kevin O'Farrell's fascination with the old-world process of hatmaking began more than 30 years ago and led him through many years of study with hatters from Oregon to Florida.
The real history of hatmaking after John B. Stetson is hard to find (or lost) - cataloged only in the minds of those who apprenticed with the masters. Among Kevin's mentors were the most respected names in the business, names you may not know:
Jack Waldrip, Grady Nutt,
Joe Bishop, "Tex" and Jim Jones.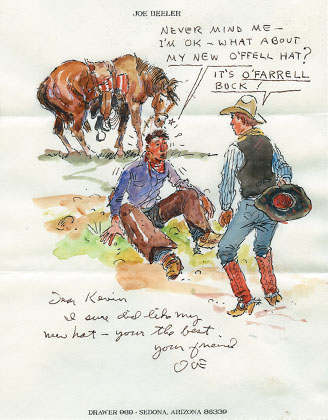 Kevin chose his preferences of technique and design, applied skill and inventiveness and honed his ability to "know" the best proportions of crown and brim for each person.
He developed his craft to the point where O'Farrell hats are known and sought after in all walks of life, by all kinds of men and women, all around the world.
Kevin passed along all of this to his son, Scott who now operates the second generation of the O'Farrell legacy.
Today, when you walk through the door, Scott and the O'Farrell staff give you a warm smile. With a wave of a hand or nod, they already know how to guide you in fitting your hat.
The O'Farrell Hat-making Team is a highly skilled and very particular group of men and women.