The Conformateur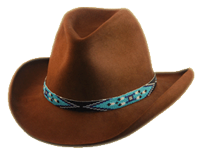 Everybody (yes, everybody) has a strange shaped head - from the top down, that is.
If you could see your head - the way your HAT sees your head - its shape is a circle, an egg, an oval, or something entirely different. You would also notice that there are 'dimples' (sometimes) on either side by your temples making it difficult - or impossible
- to find a perfectly-fitting hat.
Most hat companies think your head is shaped like this

We Know Better

Well, there IS a way to measure the shape and size of your head.
Like you, each O'Farrell cowboy hat is an original and the contraption that makes a perfect fit is the
CONFORMATEUR
.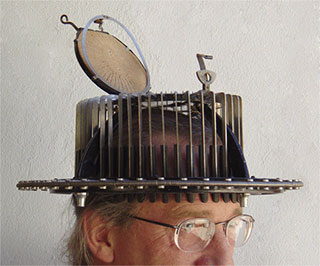 Granted, it looks like a prop from a Frankenstein movie but it is still the most reliable way to translate the fit of a custom hat into the exact shape of your head.
Allie Maillard invented it in Paris in the 1840's and any hat maker worth their salt should have one (or three or four).
When you "put it on" the way you would wear your hat, it lines up a series of pins that create a punched card with a top-down outline of your head - and the examples shown here are for real
- no kidding -
The punch card is used to create the final fit of your cowboy hat so the shape of YOUR head is built in. When you put on your O'Farrell, it will fit - perfectly.
These are custom cowboy hats that look and feel like no other.